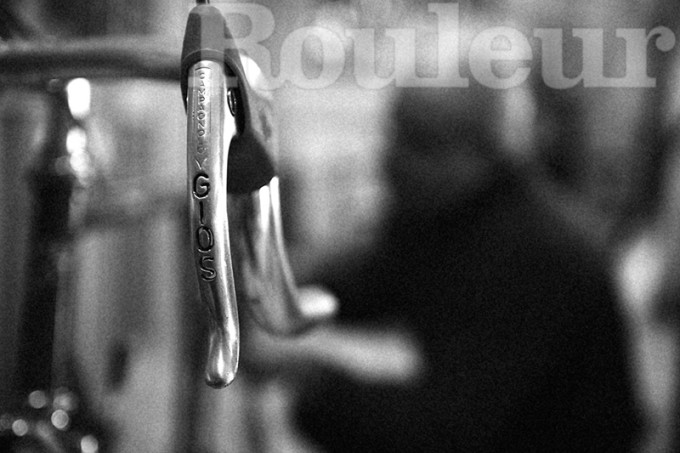 PUBBLICATO SU ROULEUR N°25 / PUBLISHED ON ROULEUR ISSUE 25 – 2011 © all rights reserved

Aldo Gios preparava le bici per Roger De Vlaeminck. Nell'agosto 2010 decide di far risorgere la famosa bicicletta blu con cui Roger vinse la sua ultima Parigi-Roubaix nel '77. Questo è il risultato nonchè il mio primo articolo per la rivista inglese Rouleur.
____________________________________________________Extract from the English version_______________________________________________________
Aldo Gios prepared bikes especially for Roger De Vlaeminck. He rode one of them in 1977 to win the last of his four Paris-Roubaix victories. In August 2010, Aldo decided to resurrect the famous blue machine Roger used in '77. At the very moment I stepped into his shop, I could see that classic '70 steel frame hanging on the rack. Gathering the original componentry and wheels, Aldo talked while re-assembilng this iconic Italian design ridden by the great Belgian.
"De Vlaeminck punctured three times in his 14 Roubaix, and the first time was only in 1979 when he was no longer in our team. In fact, many racres punctured much more often injust one edition."
"Roger also asked me to mount the brake levers just a couple of centimetres lower than normal to adapt them to his very low riding style. Also always asked me to put protective rubbers on the gear levers, which would help avoid bruising when sprinting, as he shifted the gears with his knees without moving his hands from the handlebar."
"I also had a secret which I jealously guarded: I kept the tyres with the wine in the basement, in total darkness, because light weakens the tread, and I wanted a hard and more resistant rubber which would be more suitable to rough ground.
____________________________________________________________________________________________________________________________________